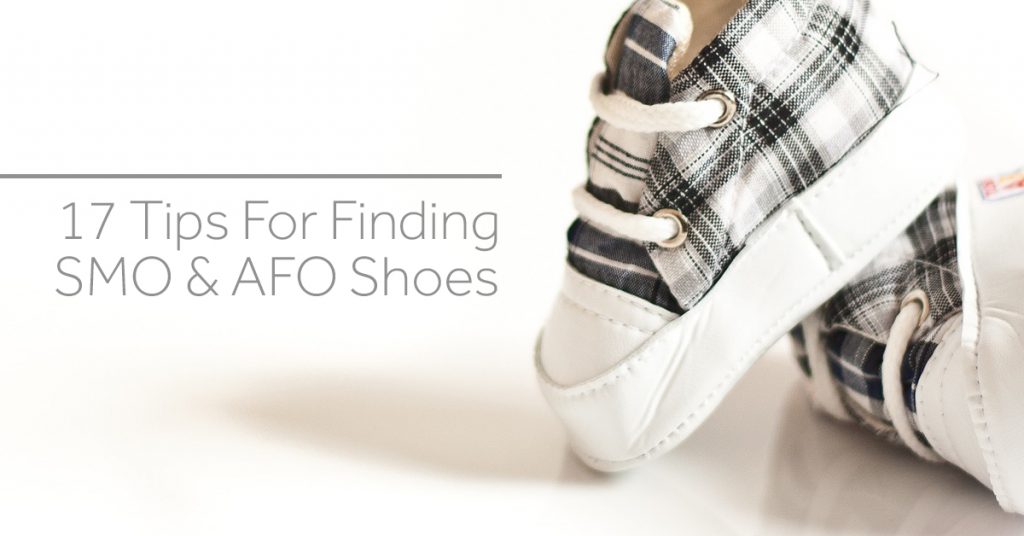 Finding shoes to fit over your child's AFOs and SMOs doesn't have to be a headache. These 17 tips and brand recommendations will help you get started.
General SMO and AFO Shoe Tips
–  Don't limit yourself to shoes that appear to offer extra support. The AFOs or SMOs will provide the stability your child needs.
–  If possible, pick shoes with laces instead of Velcro because they provide a more secure fit. Laces also have the added benefit of being more difficult for younger kids to take off on their own.
–  For shoes with Velcro, consider getting strap extensions to ensure a better fit.
–  Buy the smallest size that accommodates the braces. Shoes will stretch over time.
–  Rocking the shoe side to side will help it slide on more easily.
–  A shoe horn can both help get your child's foot in and prevent damage to the back of the shoe.
–  Kids often get attached to shoes that feature specific characters or designs. And when they can't accommodate the braces, it can be heartbreaking. One way to counter this is to let your child customize his or her own shoes with things like stickers and fun laces. Will the result be an artistic masterpiece? Probably not. But at least your child will feel a greater sense of ownership.
–  Look for toe boxes that are both wide and deep.
–  Avoid shoes that are too big. If they easily slide over the braces, look for a smaller size.
–  Extend the shoe's tongue before sliding your child's foot in.
–  Zippers on the side or back make slipping the shoe on easier.
–  Consider removing the insole if the braces feature a full footplate.
–  If you're unsure about a pair, bring them to the next appointment with your orthotist to get his or her opinion.
SMO and AFO Shoe Brand Recommendations
–  Surestep, Hatchbacks, and others design shoes specifically with orthoses in mind.
–  Brands such as New Balance and Saucony offer shoes in wide and extra wide sizes.
–  Plae shoes are made of a flexible material which helps them to slide over the AFOs and SMOs.
–  Zappos, an online retailer, offers free returns and free shipping on those returns. This means you can experiment with different sizes and styles, and then send back any that don't fit.
Good luck and happy shopping.
Looking for more shoe buying advice? Check out a previous post.
Buy Surestep Shoes Online