The following is a guest post from Ali Cummins. She's a former wannabe movie star turned middle school teacher and mother of two girls. When she isn't busy grading papers and breaking up fights over Barbie dolls, she writes about her experiences as a mother of a child with special needs.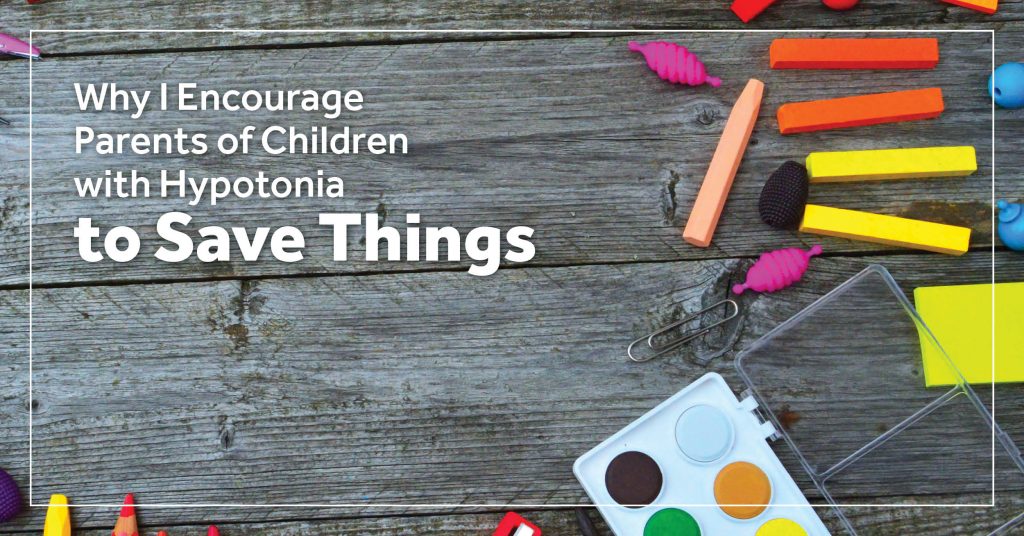 Like many parents, I save a lot of crafts my kids bring home from school. In fact, there is a desk drawer in our house filled with finger paintings, handmade Mother's Day cards, yarn art and a plethora of school pictures. I'm pretty sure it is my husband's least favorite drawer. Of course, some art projects slowly make their way from the fridge to the trash, but I am a strong advocate for saving and collecting pieces here and there.
When a parent messages me about their child's hypotonia diagnosis, one of the first questions they ask me is "Will this get better?" This is often followed by: "How do I stop worrying so much?" or "Why can't I just enjoy this time with my kid?" and "How can I stop comparing my child to everyone else?"
And my response is always: Save things.
Save old videos and even older pictures. Save pencil scribbles and watercolor paintings. Save your kiddo's first pair of SMOs and first pair of summer sandals.
I never knew the power of saving things until I was feeling down one night. Earlier that day, I watched kids — who were much younger than my own daughter — run circles around her at the park playground. She couldn't keep up. The other kids climbed fearlessly up the playground ladder as she stumbled just to walk on the uneven, mulch-covered surface. They zoomed down the slide with relative ease while my daughter struggled to hold her head and body upright. As the other mothers chatted a safe distance away from their children, I attempted to help my daughter navigate the equipment laid out before her.
Tears streamed down my face as I climbed into bed for the night. I knew my daughter had a gross motor delay. I knew I needed to stop comparing and worrying. I knew I needed to enjoy our time. But how?
My husband entered the room just in time. "Look at this," he said, as he turned on the T.V. It was a video taken about three months before of our daughter taking her first steps. Her legs wobbled, her arms stretched out to catch herself in case of a fall, a big smile danced across her face. One step, two steps, and she softly fell to the ground. She giggled. We cheered. And she stood back up again.
"That was only three months ago," my husband said, "look how far she has come in just three months!" He was right. Three months ago, she was just taking her first steps, and now she was tottering around the playground. Three months ago we were miles and miles away from where we were now. My tears slowly stopped.
My husband and I watched video after video: Our daughter learning to roll over, her first time getting into a sitting position, and her walking in her new SMOs as Katy Perry's "Roar" played in the background. And I realized just how hard it is to sometimes see and appreciate the progress that has been made when we are in the thick of it. It is easy to forget just where our kiddos were last year, last month, and even last week when we are constantly waiting on and hoping for them to reach the next milestone.
I am so thankful for those videos we saved because each one allowed me to see the tremendous strides our daughter made. In the hypotonia community, we have a saying, "One inchstone at a time." Those videos reminded me that every beautiful inch does truly lead up to some amazing miles.
Because of that night, I always encourage parents to save things. Sure, you may end up with a stash of macaroni necklaces you have no clue what to do with, but they just may offer you the gentle reminder you need. Sometimes a look back allows us to clearly see and truly appreciate how far we have traveled.
How to talk to friends & family about hypotonia