Does your kiddo wear AFOs? Or are you getting AFOs soon for your child?
AFOs can help your little one to take his or her first steps, stand up longer, enjoy better stability even with low muscle tone, and much more.
Amid all these victories, let's be up front about something: Wearing socks inside layers of braces and shoes all day contributes to sweaty feet! Some kiddos get uncomfortable.
That's why we designed our new AFO socks—a way to keep your kiddo's feet dry and free of bacteria buildup. Sweaty, smelly socks don't have to be a normal part of being a kid any more. Find out more below…
Sweat Relief With Revolutionary Socks
Sweat happens, but it can be managed. Our solution: a new kind of socks, designed specifically for kiddos with AFOs. Surestep AFO socks are: 
Made with moisture-wicking materials to keep feet cool (see below for more on this)

Comfortable because they're made without seams—perfect for kiddos with sensory concerns

Longer than our SMO socks, protecting sensitive skin under AFOs
Your child will get the support and comfort he or she needs when these specially-designed socks are paired with customized AFOs.

The Secret Ingredient—COOLMAX Fibers
We decided to use COOLMAX fibers for the main fabric of our AFO socks. These fibers are part of a high-tech system that:
Carries moisture away from the skin to the outer layer of the socks
Quickly releases moisture to keep the fabric dry
Lets the body regulate temperature in a natural way
Feels comfortable against the skin—not sticky
These fibers will protect your kiddo's skin from sweat buildup. It'll keep them more comfortable, reduce bacteria growth, cut the smell—and it's just healthier!
COOLMAX fibers are popular in socks designed for hiking, biking, and similar activities. Since it's great for adult adventurers, we decided it'd be perfect for your kiddo—because they deserve the best.
AFO Socks Are Available Now
We sell Surestep AFO socks as single pairs, but you can get discounts on multiple pairs—great for busy parents who want to make sure a fresh, clean pair is always ready.
Buy them through our Surestep shop online, or ask for them through your orthotist. Current prices are:
$15 per pair
$25 for two pairs (17% savings)
$30 for three pairs (33% savings)
Surestep AFO socks are available in black or white in these sizes:
Infant
Toddler
Small
Medium
They're made of 92% COOLMAX polyester, 6% nylon, and 2% lycra.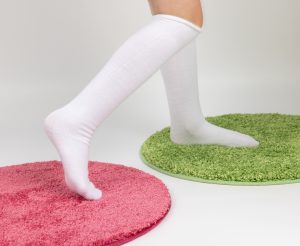 We're also scheduled to extend our sizing options for our Toddler and Youth Shoes, which are designed for kiddos who wear braces. Check back on our blog, Facebook, or Instagram for other new developments!
Shop for Seamless AFO Socks Here